SSV Network price forms 2 extremely bearish patterns
SSV Network is a fast-growing provider of liquid staking infrastructure.
The developers launched a $50 million ecosystem growth fund.
It has formed a rising broadening wedge and a bearish engulfing pattern.
Liquid staking is doing well as investors wait for the upcoming Ethereum's Shanghai upgrade. Lido DAO, the biggest liquid staking provider, has grown to become the biggest DeFi provider in the world. And SSV, a leading liquid staking infrastructure provider, has seen its token grow by more than 91% this year.
SSV launches ecosystem fund
SSV Network announced that it was launching a new $50 million ecosystem fund in a bid to grow its ecosystem. For starters, SSV does not offer liquid staking itself. Instead, it partners with staking providers like Lido to offer a distributed validator technology (DLT) solution. By so doing, most developers can focus on what they do best.
SSV Network said that the fund will go to developers working on the DVT technology. It comes a year after the developers launched a $3 million fund. It has distributed some of those funds to companies like Ankr, Stader, and Moonstake. SSV also allocated $10 million in 2022 as we wrote here. In a statement, the co-lead of SSV network said:
"Distributing Ethereum's security layer has never been more important. The protocol is currently secured by a small group of companies that, when put together, control the entire Blockchain. DVT's aim is to distribute Ethereum's security by offering quick and easy access to an open-source public good."
The major catalyst for the SSV token price will be the upcoming Shanghai upgrade that will let Ethereum holders be able to withdraw their staked coins. Another catalyst for the token will be SSV's mainnet launch which will happen in the next few months. Its testnet is already up and running. It has 763 operators and 5,307 validators with 168,824 ETH staked. At the current price, the amount is worth over $260 million.
SSV crypto price forecast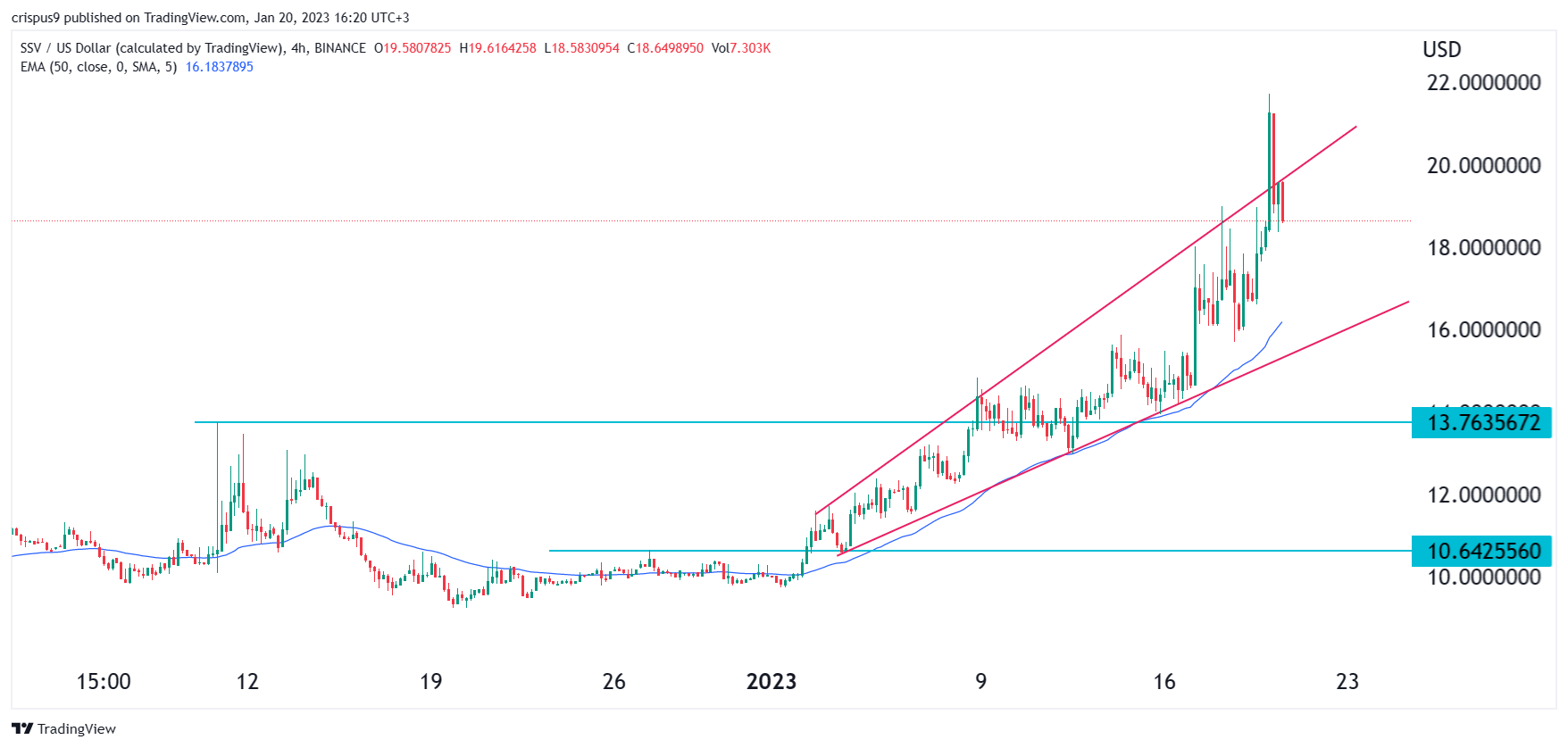 SSV chart by TradingView
The 4H chart shows that the SSV Network price has been in a steady bullish trend in the past few months. However, a closer look shows that several bearish patterns have started forming. The token has formed a bearish engulfing pattern, which is usually a warning sign. Further, the token has formed an ascending broadening wedge pattern. In price action analysis, this pattern is also a bearish sign. 
Therefore, the outlook for SSV crypto price is bearish, with the next level to watch will be the lower side of the ascending wedge at $16. The trend invalidation point for this trade will be at this week's high of $21.67.
How to buy SSV Network token