Crypto price predictions: SUSHI, Immutable X, AGIX
SushiSwap price jumped as volume and revenue in DEX platforms rose.
Immutable X (IMX) did well after the launch of Passport.
SingularityDEX token could be forming a double-top pattern.
Bitcoin price held quite well this week as the market focused on the Federal Reserve decision, big-tech earnings, and the strong jobs numbers. As a result, the total market cap of all cryptocurrencies remained above $1 trillion even as the momentum appeared to wane. In this price predictions article, we will focus on a few cryptos that are doing well on Friday, including Immutable X (IMX), Sushi, and AGIX.
SushiSwap price forecast
SUSHI crypto price went parabolic as volume and revenue in decentralized finance (DeFi) rose. On the 4H chart, SushiSwap's token climbed above the important resistance level at $1.48 (November 30 high. It also surged above the key resistance point at $1.4154 (January 22 high). 
This rally coincided with an increase in volume. In technical analysis, volume is one of the most important things that investors watch. In most situations, a major move that is not supported by volume does not last. Meanwhile, the coin has jumped above the 50-day EMA, which connects the lowest points between January 1 and 25. 
So, is it safe to buy SushiSwap? Therefore, with the flow of volume falling, I suspect that the coin will have a pullback during the weekend as investors start taking profits. If this happens, the key support level to watch will be at $1.4856.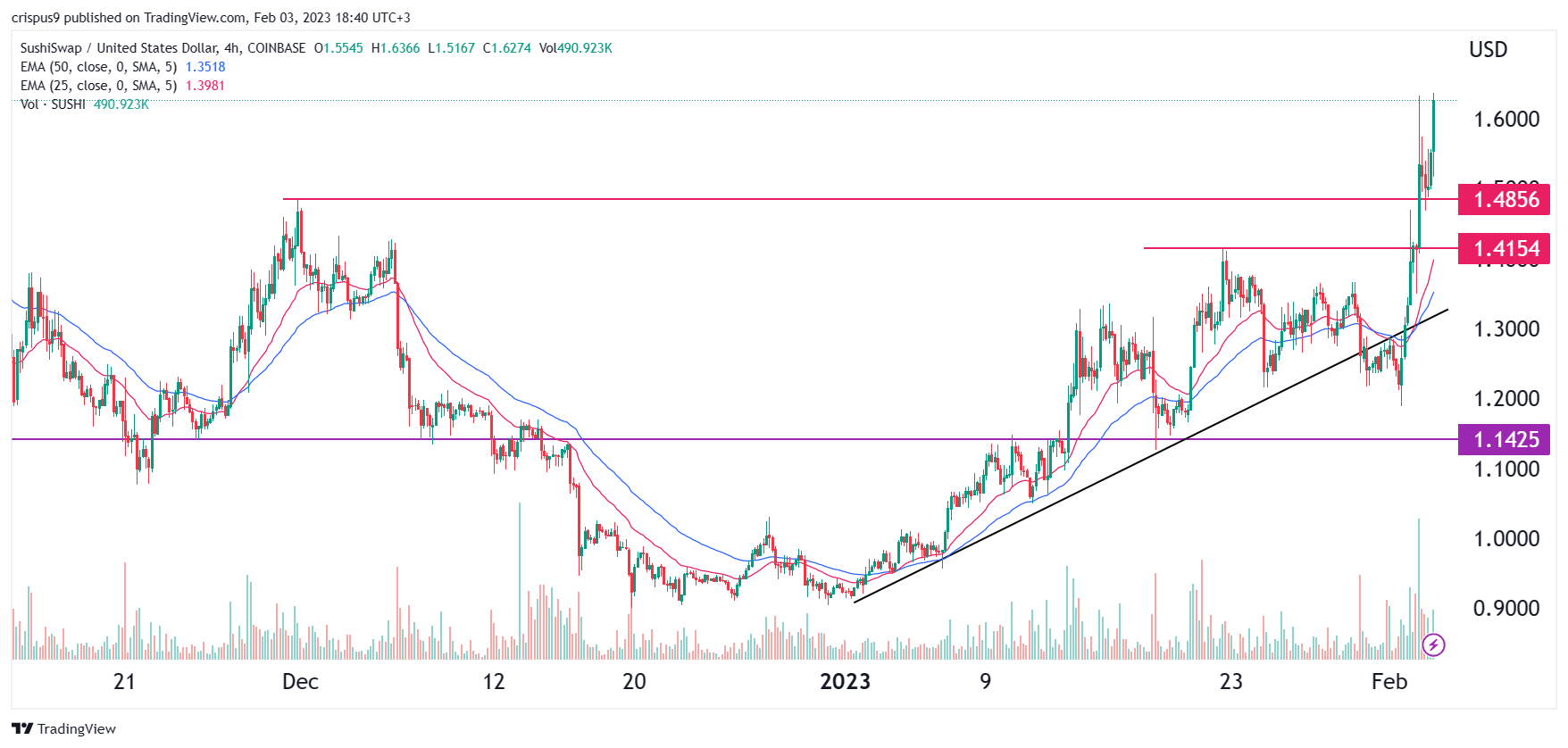 SUSHI/USD chart by TradingView
How to buy SushiSwap
eToro
eToro offers a wide range of cryptos, such as Bitcoin, XRP and others, alongside crypto/fiat and crypto/crypto pairs. eToro users can connect with, learn from, and copy or get copied by other users.
Buy SUSHI with eToro today
Disclaimer

Public
Public is an investing platform that allows you to invest stocks, ETFs, crypto, and alternative assets like fine art and collectibles—all in one place.
Buy SUSHI with Public today
Disclaimer

Immutable X price prediction
Immutable X's IMX price shot up this week after the company created Immutable Passport, as we wrote here. In all, the coin's price surged to a high of $1, which was about 161% above the lowest point in December. On the daily chart, we see that volume has been tracking upward since December. 
IMX crypto also moved above the crucial resistance point at $0.7483, the highest level on January 25. It also rose above $0.7290, November 5 high. The bullish trend is supported by moving averages. But like SUSHI, I suspect that the coin is ripe for a pullback in the coming days. If this happens, the coin will likely retreat to the support at $0.7483.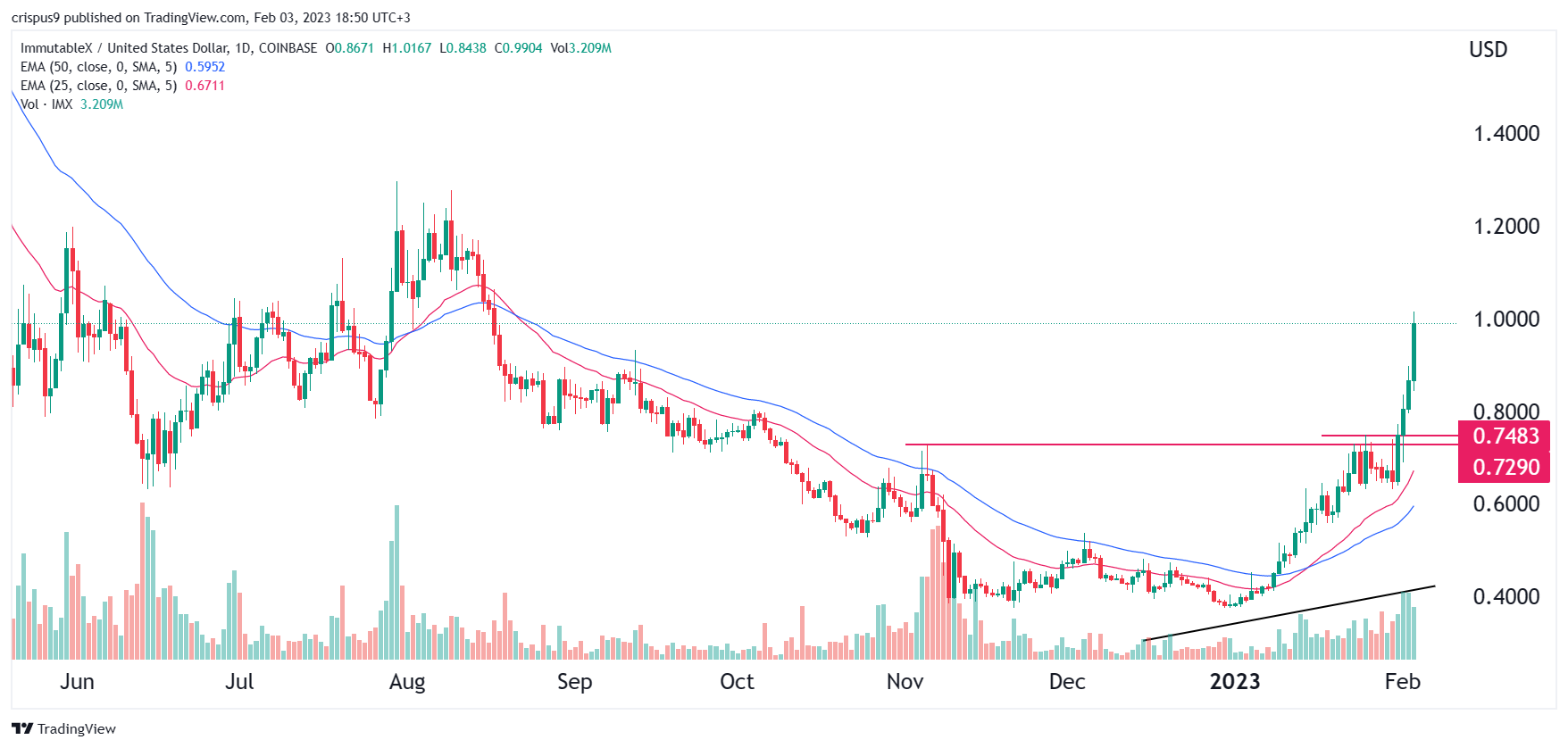 IMX/USD chart by TradingView
How to buy Immutable X
Huobi
Start Your Cryptocurrency Journey Today. Huobi Global has a variety of features that make it an ideal place to buy and sell digital asset.
Buy IMX with Huobi today
AGIX price prediction
Artificial intelligence is taking over the world, especially following the launch of ChatGPT. This explains why SingularityNET's AGIX price has been in a remarkable rally recently. The token surged to a high of $0.25 on Friday, the highest point since January 14. At its peak on Friday, the coin was up by 555% from its lowest point in December.
AGIX seems to be about to form a double-top pattern whose upper side is at $0.25. This view is supported by the fact that the coin's volume has been trending lower. Therefore, there is a likelihood that the coin will have a bearish breakout in the coming days unless bulls push it above $0.25.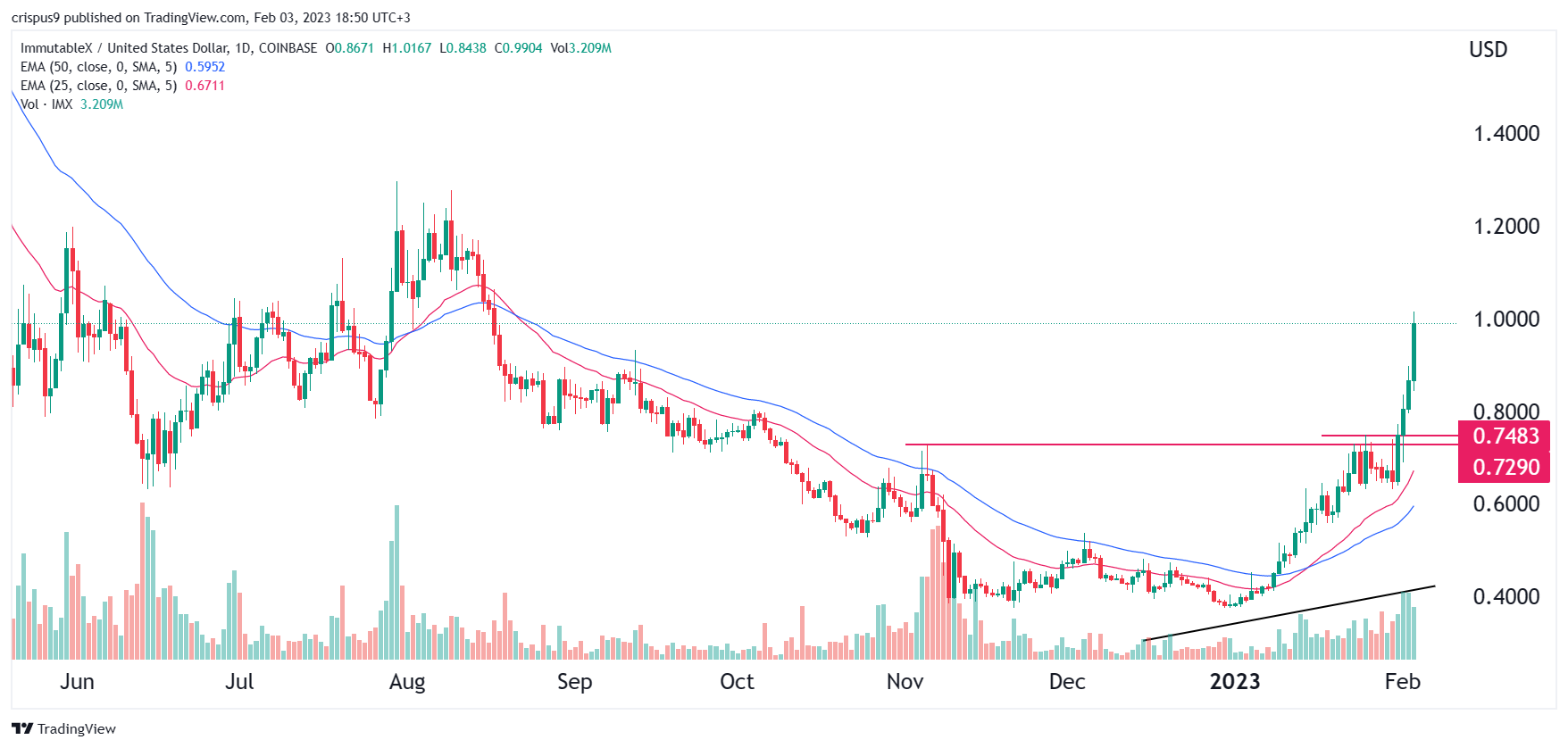 IMX/USD chart by TradingView
How to buy SingularityDEX