A Critical Test for Bitcoin 40% Rally
The Federal Reserve policy decision could be a significant test for this year's 40% rally in Bitcoin, which is part of a broader trend of growth in the crypto, stocks and bonds markets.
The market has seen growth in recent weeks due to expectations that the Fed will pivot to slower interest-rate hikes and potential cuts as high inflation cools.
Will Bitcoin Lose Momentum?
While the Federal Reserve is expected to downshift to a quarter-point increase this Wednesday, Chair Jerome Powell may stress that policy will remain restrictive in order to damp prices. This could have a negative impact on the $250 billion run-up in the overall crypto market value in the past four weeks. Traders should be prepared for potential volatility when Powell speaks.
Vetle Lunde, a senior analyst at Arcane Research, believes that the crypto market is overly optimistic about a swift Fed pivot. Lunde added that slowing momentum, strong technical resistance, and expectations of a hawkish Federal Open Market Committee (FOMC) could lead to a "poor February."
Arcane has analyzed Bitcoin swings around the Federal Reserve's recent post-decision briefings. The firm found that the trend of massive FOMC-induced volatility in BTC is receding. However, the firm has advised traders to be cautious when Powell speaks.
Smaller coins such as Avalanche and Dogecoin have posted losses in the countdown to the Fed decision. Meanwhile, Bitcoin rose by less than 1% and was trading at $23,118 as of 9:44 CT.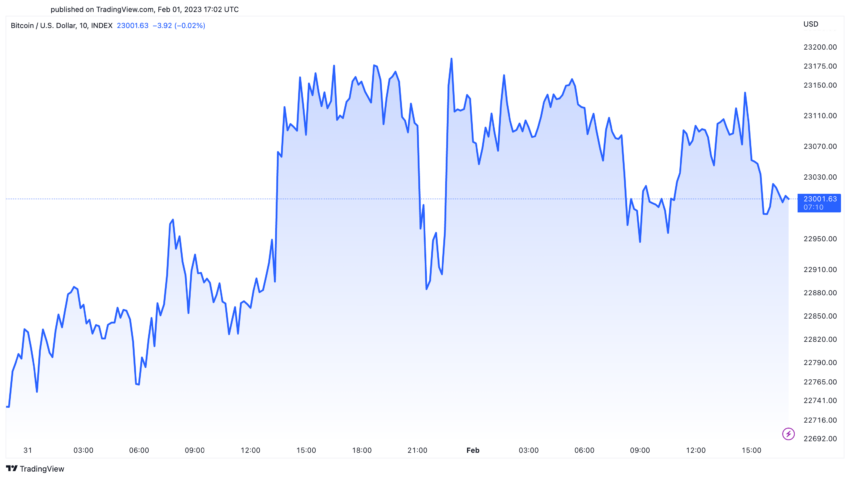 The Fed downshift is one of the key drivers behind January's digital asset gains. The market also appears to believe that the worst of the crisis over the collapsed FTX exchange is behind us, according to Jean-Marie Mognetti, CEO of Coinshares International Ltd.
Crypto-related stocks have rebounded from last year's decline. Shares in the US-based exchange Coinbase Global Inc. surged 65% in January, the best monthly performance since the company's listing in 2021. An index of crypto-mining equities saw an unprecedented increase of 77% this month.
The 2023 digital asset rally has reduced the one-year drop in a gauge of the top 100 tokens to 43%. A survey by LendingTree found that 40% of the 28% of Americans who have held crypto sold it at a loss. Despite this, the overall trend suggests that the market is confident about the future of digital assets. Traders should be prepared for potential ups and downs in the coming weeks.
Disclaimer
BeInCrypto has reached out to company or individual involved in the story to get an official statement about the recent developments, but it has yet to hear back.